After paying, send the 3DS to be modified here:

Neal Tew
5442 S 900 E
Suite 244
Salt Lake City, UT 84117
USA

Please include some note so I know who it's from (a PayPal receipt would be great, or at least a name / email address).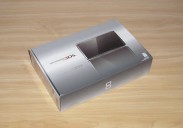 3DS with capture board
A new 3DS (US region, DOES NOT play EUR / JP games) in its original box with capture board installed.

SORRY, NOT AVAILABLE. The original model 3DS is no longer in production and new systems are becoming difficult to find. Premodded systems will be offered again once XL / 2DS capture boards are available. Until then, you can find a 3DS online somewhere (Amazon, GameStop, etc) and have it shipped to me directly if you don't have one. Please give me a tracking number or some way for me to identify your 3DS.